Posted on 31 October 2016
Stop fearing the acid crudes, welcome them!
Wintech Global provides a very unique consulting service which supports refiners in processing High Acid Crudes (HAC) without endangering Assets Integrity!
Nowadays, over half of the world's oil supply is heavy and sour.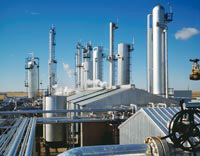 At the same time, crudes are becoming more and more acid and refiners are definitely tempted to consider the HAC's in the global supply picture. However, it is always subject to questioning for refiners to treat such "opportunity" crudes due to lack of knowledge about effects they could produce on the processing Assets.
OUR ANSWER allows anticipating the effects of new crudes or blends with regards to given scheme and various conditions:
– Qualifying the current integrity status of equipment and piping
– Assessing the units capability to process tougher feeds
– Mitigating the potential detrimental effects to Assets' integrity
– Optimizing the strategy for corrosion monitoring (NDT measurements, corrosion probes, stream analyses, etc.) and control (chemical treatment, material upgrading, etc.)
OUR DELIVERABLE is an essential decision-aid tool since it supports the right strategy to achieve sustainable use of "opportunity" crudes while preserving assets integrity.
OUR COMMITMENT is to provide refiners with that needed information to:
– Build new perspectives in term of crude supply options
– Assure the Assets sustainable performance
– Maximize plant profits
For more information, it is the right time to get in contact with us!